A jump list is a feature that came with Windows 7 and newer versions. It allows users to view the most recently accessed or used files on installed programs on their taskbar. To view it, right-click any program icon in your taskbar. That would make a list of the files you most recently used that program for.
Jump lists enable faster access to a suspect's most recently and frequently accessed files for digital forensics pros. So, say they're looking for the culprit who made an unauthorized change to a shared document. They can immediately see if and when the person under investigation accessed the file in question.
Other interesting terms…
Read More about "Jump List"
If you're wondering what a jump list looks like, here's an image:
In the example above, the jump list for Microsoft Excel 2010 (boxed in red) shows the last spreadsheets the user accessed (Application_form.xls, etc.).
Can You Only Access Jump Lists from the Taskbar?
The quick answer to this question is no. You can also access a jump list from the Start menu so long as the program you wish to access is on it. All you need to do to make a jump list appear is to right-click the program's icon.
Here's a video that shows how a jump list works:
It shows how to access a jump list from the Start menu and your taskbar.
What Is a Jump List Useful For?
Apart from reducing the time you spend looking for the most recent copy of a file, especially if you keep several versions simultaneously, jump lists also keep track of the sites you last accessed. It also lists the commands you last ran on your computer and pin the most frequently used programs and files to your Start menu.
If you use a spreadsheet to track work progress daily, you can pin the calendar to your Start menu. Clicking from there not only saves you time but also serves as a reminder to keep it up-to-date every day.
A jump list in forensics lets analysts quickly see if a suspect recently accessed a file under investigation. Clicking the shortcut to the file allows for easy access for further analysis.
How Do You Enable the Jump List Feature?
Digital forensics experts hired by companies can enable the jump list feature on all employees' computers by default. If they wish to use the feature as an investigation tool, they must prevent users from disabling it. To do that, they must not give users administrator access privileges.
Follow these steps to turn the jump list feature on and off:
Right-click the taskbar and select Properties.
In the Taskbar and Start Menu Properties dialog box, switch to the Start Menu tab (the second one).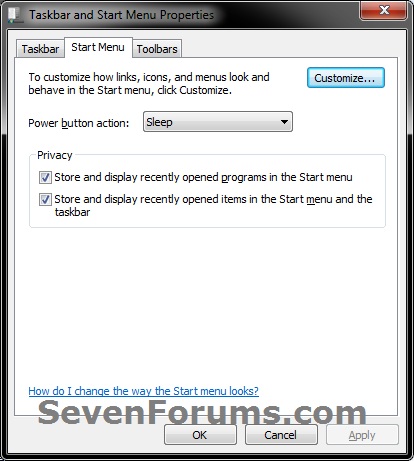 Tick the "Store and display recently opened programs in the Start menu" and "Store and display recently opened items in the Start menu and the taskbar" to enable the jump list feature. To disable it, untick the boxes.
Click the Apply button to save the changes you made. You're all set.
What Programs Use Jump Lists?
You can create jump lists for all apps built into Windows 7 and newer operating systems (OSs), along with all other installed programs.
Edge
Your Edge jump list shows the websites you last accessed, as shown below.
For digital forensics purposes, you can see if a computer's user recently accessed the website responsible for infecting the network with malware.
Windows Media Player
Your Windows Media Player jump lists show the most recent music and video files you listened to or viewed.
Digital forensics pros can use this jump list to check if a computer user is watching a movie instead of working, for instance.
Word, Excel, and PowerPoint
You already saw an example of a Microsoft Excel jump list earlier. Here is a sample for Microsoft Word, which also shows your most recently updated files on the app:
Digital forensics analysts can use these jump lists for investigations regarding unauthorized access.
—
Jump lists are a great way to start where you left work as soon as possible. They essentially keep track of your progress for you. They also allow digital forensics experts to speed up investigations.